Weddings
---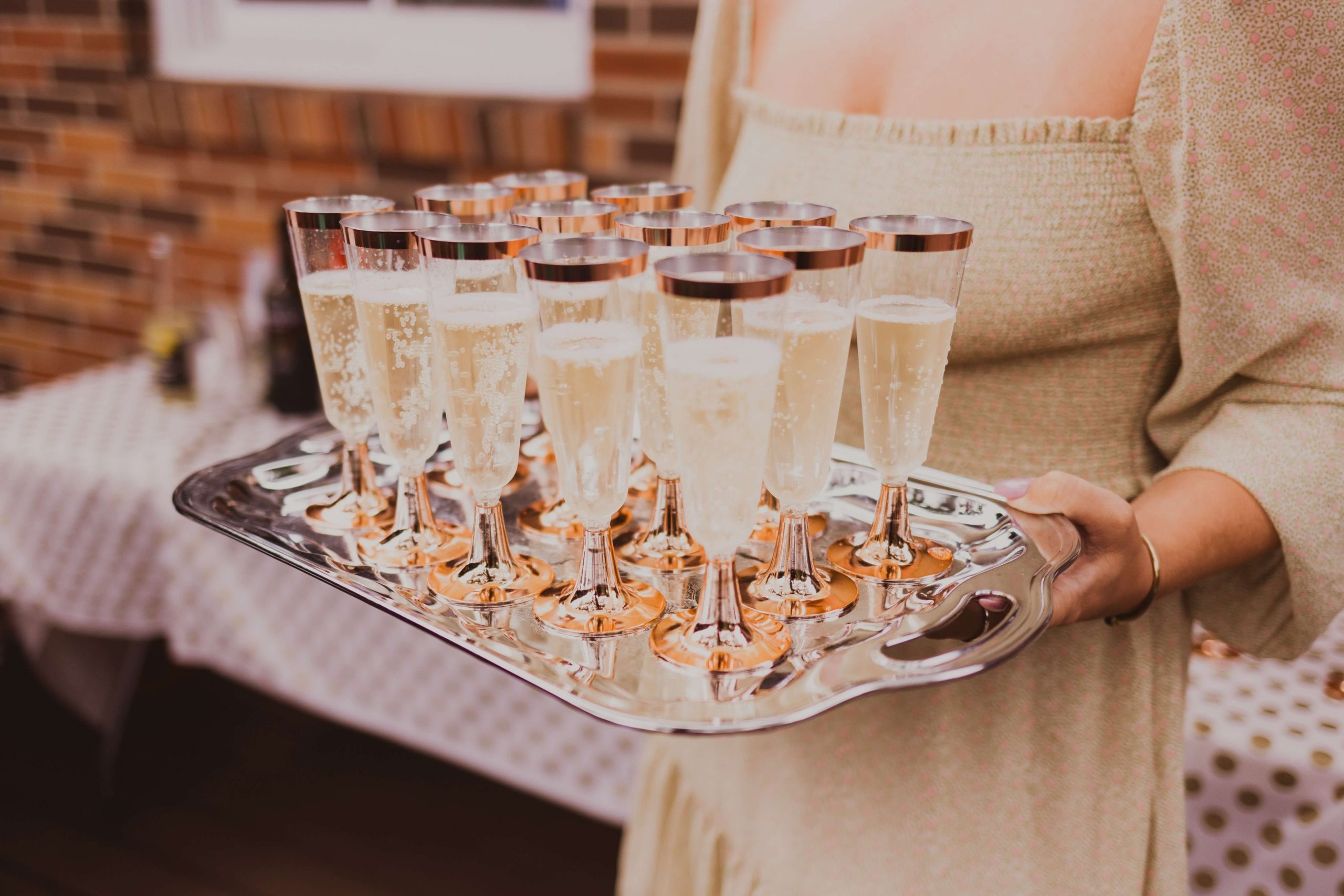 Your special day comes with many important decisions! When choosing a venue for your wedding reception, beware of the hidden costs which may not be mentioned when figuring your total costs. At the Drying Shed, we offer additional services without added fees.  Our Wedding Buffet is $29.95 per person.
Services Include:
Cutting & Serving your wedding cake
Bar set up and Bartender
Coordinated Linens, China, Silver and Glassware
Fresh Long Stemmed Roses
Room reset and standard cleaning
Professional guidance for all phases of your special event.
Remember to ask other restaurants and banquet facilities what they charge for these services.  The price difference is often $1,000 or more!
We offer extra dry JFJ champagne at the price of $144.00 per case or $12.00 per bottle.
JFJ Chablis & Burgundy carafes are available at the price of $15.50 per liter.
We charge only for your pre-arranged amount.  No minimum charge.
Memorial Service buffets are offered at a special rate of $19.95 per person with a minimum number of 50 guests. Includes all the Following:
Eye Round Beef au jus
Breast of Chicken Teriyaki
Baked New York Lasagna
Baked Mostacioli or Penne
Rice Pilaf
Tossed Salad
House made dressings (Ranch, Italian, 1000 Island, Bleu Cheese)
Assorted Fresh Fruit
Pineapple, Melon
Fresh Baked Dinner Rolls
Sheet Cake
Fresh Brewed Coffee
Celebration of Life Memorial Service Buffet
---
Thank you for considering the Drying Shed for your special occasion. To book your banquet, the following steps are necessary to ensure a successful event.
MENU SELECTION: Must be finalized one week before your event.  If more than one entree is selected, exact counts for all entrees are required. Potato, salad, and dessert should be one selection.
GRATUITY AND TAX:  All prices are subject to 20% gratuity and 9.375% sales tax.
GUARANTEE:  A confirmation of the number of guests in attendance, (and in the case of two or more entrees) and quantities of each entree are required three working days prior to the event.
This confirmation will be considered a guarantee for which you will be charged, and not subject to reduction.  If a guarantee is not received, the restaurant will assume the guarantee to be the number listed on the contract.  The restaurant will be prepared to serve a minimum of 5% over the guarantee.  For Christmas parties, please guarantee number attending 30 days in advance.
DAMAGES:  The restaurant will not assume any responsibility for the damage or loss of any merchandise or articles left here prior to or after your party.
CHANGE OF ROOMS:  The restaurant reserves the right to change a room (or rooms), as specified on the contract if the number of guests change, or if necessary, by the restaurant.
DEPOSIT AND PAYMENT:  A non-refundable deposit will be required to reserve your event space. The deposit will be applied to the final invoice. Final payment is due as per agreement with the restaurant and is the sole responsibility of the person in charge of arrangements.  One check will be presented and one check or cash tendered.
TIMING:  As other groups may be utilizing the same rooms prior to or following your function, please adhere to the times previously agreed upon.
ENTERTAINMENT:  The restaurant has control over all bands, disc jockey, entertainment as it pertains to music volume and timing.  Dance floor and  insurance charge is $150.00.
We can recommend qualified disc jockeys/bands for your event.
THEME CAKES:  The restaurant can provide full or half sheet cakes tailored for your special occasion. Our banquet manager will assist you with your special needs.